NPC's Virtual Spring Theatre Festival, April 24-May 9
on
April 19, 2021
at
5:04 pm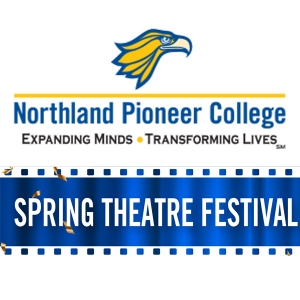 Northland Pioneer College's (NPC's), Performing Arts Department will be producing six 10-minute plays as part of the college's 2021 Virtual Spring Theatre Festival. Due to the pandemic, NPC's performing arts students and director Patrick Day have been rehearsing via Zoom and will record and post the performances to YouTube. The series will be available for public viewing from Saturday, April 24 through Sunday, May 9. The YouTube channel is titled Northland Pioneer College, 2021 Theatre Festival and can be found at https://www.youtube.com/channel/UCp6yzFzViIZqvrQA-Bn1Kyw/videos
NPC's Virtual Spring Theatre Festival will feature the work of contemporary playwrights involved in the New Play Exchange, a website where playwrights from around the world post their work, which can then be read by subscribers and used by theatre companies who contact the playwrights about production rights and licensing requests.
This spring's virtual theatre festival includes Tiffany is a Medieval Name by Sarah Rae Brown, featuring Claire Padilla and KayBree Raisor as two old vampire friends who connect via video chat to discuss an interesting revelation about their relationship.
In another play, performers Kellie Stanton and Taya Hancock portray two mismatched scene partners who connect in an online improv class in Allie Costa's Yes, And…
In Stung, by Laura Ekstrand, two people, played by Kara Cirre and Reece Harris, meet at a farmers' market and are resolved to change the way they participate in relationships. A simple transaction turns into a conversation that nudges them toward a new path forward.
Alexandrea Delarosa and Kellie Stanton appear in Jess Honovich's comedy Amazing in which a mother hires a magician for her son's birthday party… only one's not really a magician and the other's not really a mother.
Performers Alexandrea Delarosa, Taya Hancock, Reece Harris and Elaine Mahaffey make up the cast in another comedy, The Check-Up, written by Scott Mullen. A man attends a doctor's appointment using Zoom but isn't happy when it is a female doctor; then their mothers show up.
Jennifer O'Grady's Fridge focuses on a woman and her refrigerator in a story about failure and acceptance. The play will be published in the Smith and Kraus anthology The Best 10-Minute Plays, 2021, and features Kara Cirre, Elaine Mahaffey, Claire Padilla and KayBree Raisor.
NPC's Virtual Spring Theatre Festival is free to the public and viewable at any time during the YouTube unveiling, as a way for the college's Performing Arts Department to provide entertainment to White Mountain communities despite the uncertainties brought about by the pandemic.
Questions about this and upcoming NPC performances as well as Northland Pioneer College's Performing Arts program, can be directed to NPC's Technical Designer/Production Manager, Patrick Day at 928-536-6267 or email [email protected].