Prescribed Burn Planned on the Lakeside Ranger District
on
March 10, 2021
at
5:11 pm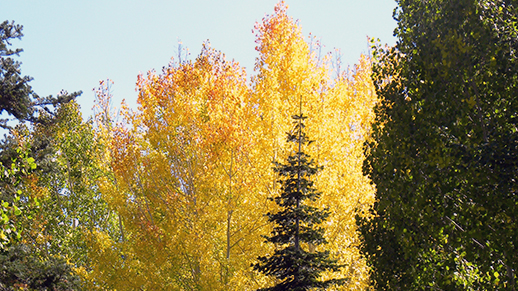 Greens Peak splendor (Forest Service Photo, from https://www.fs.usda.gov/asnf)
The Apache-Sitgreaves National Forests' Lakeside Ranger District plans to conduct a prescribed burn of a slash pile between Monday, March 8, and Wednesday, March 31, 2021, as conditions allow.
Slash is the accumulation of limbs, leaves, pine needles and miscellaneous fuel left by natural debris and forest management activities, such as thinning, pruning, and timber harvesting. Slash piles are created by gathering these materials into manageable, isolated piles that can be burned in a safe manner to reduce fire hazards.
The prescribed burn, located within the Lakeside Administration Site, will require one day of ignitions on a single large pile, which is approximately 1-acre of land. Fire crews will be on scene from ignition until there is no longer a threat of escape from the project boundaries. Prescribed fire, also known as RX, operations are subject to cancelation due to unfavorable weather conditions or other unforeseen circumstances.
Prescribed burning provides many benefits and is essential to maintaining healthy forest ecosystems. It provides habitat diversity, recycles plant nutrients into the soil, and encourages new growth for a variety of plants used by wildlife and livestock.  Prescribed burning of forest ground fuels also reduces the threat of large-scale wildfire impacts to private lands.
There may be smoke impacts along Porter Mountain Road, HWY 260, and in the City of Pinetop-Lakeside. In the interest of safety, forest visitors are reminded to use caution when traveling in the vicinity of the pile burn as smoke may reduce visibility in the area.  All prescribed burns are approved through the Arizona Department of Environmental Quality (ADEQ) before ignitions begin. ADEQ monitors air quality and determines whether or not it will be a good day for smoke dispersion.
Please use the following links for additional information:
Apache-Sitgreaves National Forests website: https://www.fs.usda.gov/detail/asnf/fire
Local Ranger Station: Lakeside RD (928) 368-2100
Northeastern Arizona Public Information System: 311 Information
Twitter: https://twitter.com/A_SNFs
Facebook: https://www.facebook.com/pg/apachesitgreavesnfs