Derayna DeClay's "Matriarch Ways"
on
February 18, 2021
at
5:59 pm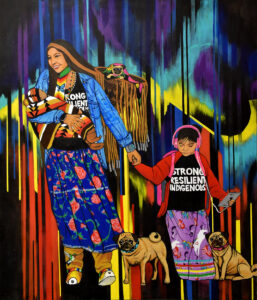 NPC's Talon Gallery features vibrant local artist Derayna DeClay's
Matriarch Ways exhibit through March 31
"I prefer to live life in color." This famous quote by the influential British artist David Hockney could not ring truer for White Mountain Apache artist Derayna DeClay. A member of the Eagle Clan, DeClay was born and raised on the Fort Apache Reservation and has seen her fair share of darker days.
Having lost her mother to cancer as a young teen, and struggling through the ups and downs related to her father's battle with alcoholism (who is now four years sober) she grappled with difficult life choices. Despite the battles, DeClay is now well on her way to becoming an influential local native artist and is well known for her colorful artwork and larger than life murals.
Her artwork takes a critical view of what she sees on her reservation: the need for Apache female empowerment, environmental issues, Apache traditional culture, representation of Apache woman. In May 2019 she graduated from the Institute of American Indian Arts in Santa Fe, New Mexico and plans to revitalize her community through education, training, and art. DeClay is a "Jack-of-All-Trades" who doesn't limit herself to one medium. Acrylic, markers, spray paint, screen printing, pencil, or chalk can all be found in her work. She is influenced by graffiti and illustration, as well as expressionism and color; DeClay's technique is always changing.
"The time has come for women to show their power, for others to hear our voices, to witness our grace, our healing spirit and the beauty of our truths," said DeClay. 'We are matriarchs.' I'm not afraid to speak. Hear my voice. I strive to live life outside the lines, break the molds, and I am stronger than you think."
As a muralist, she hopes to break from the gallery setting to a now interactive, engaging public forum. Believing creative expression can change painful experiences into strength, the artist has found healing, growth and personal transformation through creating art.
Her pieces can be found adorning local schools, service buildings and more – vibrant, positive murals with a big message and purpose.
Northland Pioneer College is pleased to present a collection of DeClay's work at NPC's Talon Gallery's virtual exhibit Matriarch Ways, which can be viewed online at www.npc.edu/talongallery through March 31. The collection is available for public purchase and is representative of DeClay's bright nature and immense talent.
An artist talk with DeClay will be held on Zoom on March 10, 2021 from 1 to 2 p.m. Please visit https://www.npc.edu/talon-art-gallery/current-exhibition to register for the event.
Due to COVID-19 restrictions, the physical art gallery at the Show Low campus remains closed to the general public. The virtual gallery and this and upcoming art exhibitions will be available on an ongoing basis at www.npc.edu/talongallery. Prior exhibitions can also be enjoyed there virtually. For more information about this exhibit, contact Gallery Director and NPC Art Faculty Magda Gluszek, (800) 266-7845, ext. 6176.