John Fogerty Says Collaborating With ZZ Top's Billy Gibbons…
on
May 29, 2018
at
1:42 pm
Warning
: in_array() expects parameter 2 to be array, boolean given in
/home/content/26/13949026/html/1055ksnx.com/wp-content/plugins/page-links-single-page-option/addons/auto-pagination/auto-pagination-functions.php
on line
185
Warning
: in_array() expects parameter 2 to be array, boolean given in
/home/content/26/13949026/html/1055ksnx.com/wp-content/plugins/page-links-single-page-option/addons/pagination-styles/pagination-styles-functions.php
on line
146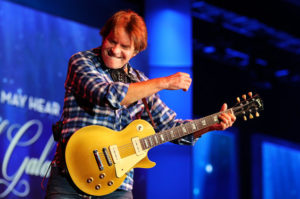 The summer touring combination of John Fogerty and ZZ Top has resulted in a "Holy Grail" musical moment.
Fogerty and ZZ Top's Billy F. Gibbons have joined forces for a gritty, shuffling new rocker called "Holy Grail" written by Fogerty that will be released digitally on June 8 and is the first track from Fogerty's next album, which he's currently writing and hopes to record this fall.
Fogerty tells Billboard that the song was the result of a short session he and Gibbons did during late February and posted on Facebook to promote the tour, which kicks off Friday in Atlantic City. "We played short versions of a few of each of our songs," Fogerty recalls, "and even before that, as the (tour announcement) was going to happen I began to think, 'Y'know, we ought to write a song and record it kind of in honor of this tour.'" The two men met up at Fogerty's house not long after that, though he wound up doing the heavy lifting due to Gibbons' schedule, with the song finally finished just a few days ago.