Sue's Crew
on
May 16, 2018
at
12:00 pm
Warning
: in_array() expects parameter 2 to be array, boolean given in
/home/content/26/13949026/html/1055ksnx.com/wp-content/plugins/page-links-single-page-option/addons/auto-pagination/auto-pagination-functions.php
on line
185
Warning
: in_array() expects parameter 2 to be array, boolean given in
/home/content/26/13949026/html/1055ksnx.com/wp-content/plugins/page-links-single-page-option/addons/pagination-styles/pagination-styles-functions.php
on line
146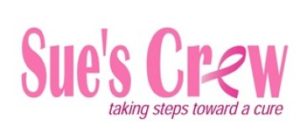 The seventh annual Sue's Crew 30-mile walk against cancer started bright and early at 5 a.m. on Saturday, May 12. Everyone walked uphill and into the gusty winds at some point along the 30-mile course. However, they all had one thing in common — the smiles on their faces knowing they were doing their part to raise cancer awareness and fight for research, treatment and a cure.
"It was wonderful. It was an incredible day. We had tears of sadness, tears of happiness," said Sue's Crew co-founder Jim Hillibrecht.
"Determination was the word of the day," said Hillibrecht's daughter, Kristen. "The wind was treacherous on Saturday but everyone just pushed through," she added. "I am always amazed at the level of support given by this community," she added.
Approximately 300 walkers participated on Saturday in addition to many volunteers and all-around supporters of the fight against cancer gathered in the parking lot of White Mountain Drywall in the industrial park in Show Low at 1520 E. Commerce Drive.
The opening ceremony included words from Jill Hillebrecht and family members in honor of his late wife, Sue Hillebrecht, who lost her battle with breast cancer in August 2010. Since then, White Mountain Sue's Crew has continued, gaining strength and participation each year.
Founded in 2012 by the Hillebrecht family, the community has embraced and immersed themselves in this White Mountain event every year, raising over $150,000 in donations.
Source : Press Release