Glenn Frey's Family Keeps Legacy Alive…
on
May 10, 2018
at
1:08 pm
Warning
: in_array() expects parameter 2 to be array, boolean given in
/home/content/26/13949026/html/1055ksnx.com/wp-content/plugins/page-links-single-page-option/addons/auto-pagination/auto-pagination-functions.php
on line
185
Warning
: in_array() expects parameter 2 to be array, boolean given in
/home/content/26/13949026/html/1055ksnx.com/wp-content/plugins/page-links-single-page-option/addons/pagination-styles/pagination-styles-functions.php
on line
146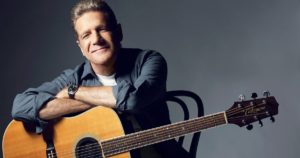 Glenn Frey, co-founder of the Eagles and one of pop's most successful songwriters, passed away two years ago but his family is keeping his legacy alive in a resilient way.
Deacon Frey, his 24-year-old son, is on road with the Eagles in his father's shoes, and Taylor Frey, Glenn Frey's daughter, is working as a road manager on the tour.
Cindy Frey, his widow and executor of his estate, admits the first few shows of the tour, which starts up again Thursday in Vancouver, Canada, were tough.
"It's hard to get beyond the sad part of, the longing of missing Glenn. But in a deep sort of weird way, it's a way of healing and living through grief for our family Frey said in an interview with The Associated Press.
"It's a family reunion for all of us and we're all doing it together. I don't know that there'd be anything else we could do that'd make us move through our grief in this way. As painful as it is at times, it's also deeply healing and comforting. It sort of makes us feel closer."
Source : AP