#Wear Red for Ed march planned for Wednesday
on
March 27, 2018
at
9:55 am
Warning
: in_array() expects parameter 2 to be array, boolean given in
/home/content/26/13949026/html/1055ksnx.com/wp-content/plugins/page-links-single-page-option/addons/auto-pagination/auto-pagination-functions.php
on line
185
Warning
: in_array() expects parameter 2 to be array, boolean given in
/home/content/26/13949026/html/1055ksnx.com/wp-content/plugins/page-links-single-page-option/addons/pagination-styles/pagination-styles-functions.php
on line
146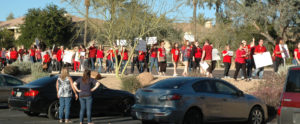 Saying they are frustrated, angry and exhausted, three Show Low teachers have been organizing with the #Wear Red for Ed, a grassroots movement for higher teacher pay.
#Wear Red for Ed participants in the Phoenix metro sponsored a march earlier this month, and teacher sick-outs that closed nine school last week. Teachers who left the classroom last week jammed a state Senate hearing in which lawmakers were considering cuts to capital gains and business property taxes — funds teachers say they need in their classrooms and their pocketbooks.
Inspired by the activism of their peers in the Valley and the momentum that helped propel a successful teacher strike in West Virginia and a looming teacher strike in Oklahoma, local teachers say they are at a breaking point.
The teachers say they hope not to strike, but they want to educate the public about what their actual pay is, and why they are so frustrated and angry.
Source : WMI