Rod Stewart Teases Elton John's Retirement Tour…
on
March 26, 2018
at
10:58 am
Warning
: in_array() expects parameter 2 to be array, boolean given in
/home/content/26/13949026/html/1055ksnx.com/wp-content/plugins/page-links-single-page-option/addons/auto-pagination/auto-pagination-functions.php
on line
185
Warning
: in_array() expects parameter 2 to be array, boolean given in
/home/content/26/13949026/html/1055ksnx.com/wp-content/plugins/page-links-single-page-option/addons/pagination-styles/pagination-styles-functions.php
on line
146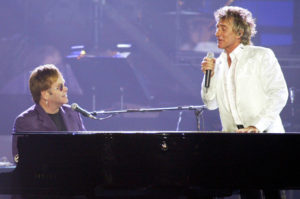 Rod Stewart has some thoughts about longtime companion Elton John's farewell tour. While visiting Watch What Happens Live with Andy Cohen alongside fellow legend — and summer tourmate — Cyndi Lauper, a fan called in asking Stewart for his opinion about John's announcement of retirement.
"I've never spoken about retirement," the rock star said. "If I do retire, I won't make an announcement. I'll just fade away…It stinks of selling tickets."
However, Lauper weighed in to give her opposing opinion. "We could say, 'for the last time, we're retiring.' Then one more time. 'Well, maybe the second to last time,'" she explained, referencing Cher's famous on-again, off-again retirement.
Stewart clapped back saying, "it's dishonest. It's not rock 'n' roll."
Source : Billboard