Russ Solomon, Tower Records Founder, Dies at 92
on
March 7, 2018
at
12:59 pm
Warning
: in_array() expects parameter 2 to be array, boolean given in
/home/content/26/13949026/html/1055ksnx.com/wp-content/plugins/page-links-single-page-option/addons/auto-pagination/auto-pagination-functions.php
on line
185
Warning
: in_array() expects parameter 2 to be array, boolean given in
/home/content/26/13949026/html/1055ksnx.com/wp-content/plugins/page-links-single-page-option/addons/pagination-styles/pagination-styles-functions.php
on line
146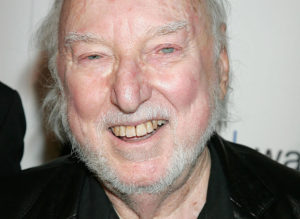 Tower Records founder Russ Solomon died Sunday at the age of 92.
According to the Sacramento Bee, Solomon died while watching the Academy Awards ceremony at his Sacramento home when he apparently suffered from a heart attack.
"Ironically, he was giving his opinion of what someone was wearing that he thought was ugly, then asked (his wife) Patti to refill his whisky," Solomon's son, Michael Solomon, told the newspaper. When his wife returned, the music retail legend had died.
Tower Records revolutionized music retailing until digital music took over the business. The company went out of business in late 2006, following two bankruptcy filings — the first a pre-packaged Chapter 11 in February 2014 and then a Chapter 11 filing on Aug. 20, 2006, that quickly turned into a Chapter 7 liquidation.
Solomon first began selling records as a 16-year-old in Sacramento at his father's drug store in the city's Tower Theater building, calling his business the Tower Record Mart. He opened his first stand alone store in 1960 and then eventually moved that original shop into its own building in 1965. In the decades that followed, he built a chain that expanded throughout the United States with locations across the globe.
Source  : Billoard