Pink Floyd & David Bowie Spice Up Olympics Ice Skating
on
February 22, 2018
at
4:38 pm
Warning
: in_array() expects parameter 2 to be array, boolean given in
/home/content/26/13949026/html/1055ksnx.com/wp-content/plugins/page-links-single-page-option/addons/auto-pagination/auto-pagination-functions.php
on line
185
Warning
: in_array() expects parameter 2 to be array, boolean given in
/home/content/26/13949026/html/1055ksnx.com/wp-content/plugins/page-links-single-page-option/addons/pagination-styles/pagination-styles-functions.php
on line
146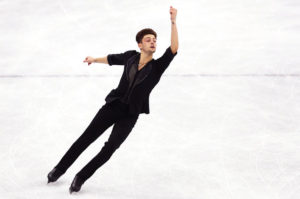 During the men's free skate program rock music roared when competitors at the 2018 Winter Olympics in PyeongChang tapped Pink Floyd, Imagine Dragons and David Bowie for their music.
Previously in the Olympics, songs with lyrics weren't permitted, but since that rule changed, we've seen everyone from Ed Sheeran to Beyonce sing out over Olympic ice. And during the men's free skate program, the competitors had a little bit of fun with their soundtrack picks.
Australia's Brendan Kerry busted out a medley of "Shine On You Crazy Diamond" and "Money," and the second the iconic guitar riff of the former rang out.
Source : Billboard