Steve Wilks Named New Cardinals Head Coach
on
January 23, 2018
at
9:56 am
Warning
: in_array() expects parameter 2 to be array, boolean given in
/home/content/26/13949026/html/1055ksnx.com/wp-content/plugins/page-links-single-page-option/addons/auto-pagination/auto-pagination-functions.php
on line
185
Warning
: in_array() expects parameter 2 to be array, boolean given in
/home/content/26/13949026/html/1055ksnx.com/wp-content/plugins/page-links-single-page-option/addons/pagination-styles/pagination-styles-functions.php
on line
146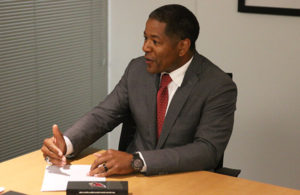 As they did last time they had a vacancy, the Cardinals were the final team to find a head coach this January. They are counting on the hire of Steve Wilks to create the same kind of success that came with Bruce Arians.
The Cards named Wilks, the Panthers defensive coordinator, their new head coach on Monday after Arians retired earlier this month. Wilks, 48, signed a four-year contract with a team option for a fifth season .
A press conference officially introducing Wilks will be Tuesday at noon Arizona time.
"This is not really a rebuild, this is a retool," Wilks told azcardinals.com. "We have the culture of winning here. We just have to be able to sustain it. It's all about trying to get to the next level and the consistency you need to get to the next level.
Source : AZ Cardinals