Donald Trump Reveals the Winners…
on
January 18, 2018
at
3:04 pm
Warning
: in_array() expects parameter 2 to be array, boolean given in
/home/content/26/13949026/html/1055ksnx.com/wp-content/plugins/page-links-single-page-option/addons/auto-pagination/auto-pagination-functions.php
on line
185
Warning
: in_array() expects parameter 2 to be array, boolean given in
/home/content/26/13949026/html/1055ksnx.com/wp-content/plugins/page-links-single-page-option/addons/pagination-styles/pagination-styles-functions.php
on line
146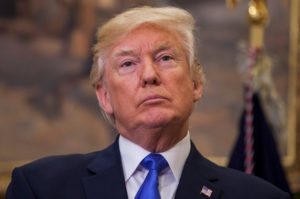 On Wednesday evening, after building up anticipation for weeks, President Donald Trump revealed the winners of "The Highly-Anticipated 2017 Fake News Awards." The winners were announced on the Republican Party's website, and the page promptly crashed.
The top spot went to New York Times columnist Paul Krugman for claiming that the economy would be hurt by Trump's election.
In second place was ABC's Brian Ross, who was suspended by the network for a month after messing up a key detail in a story in early December about one-time national security advisor Michael Flynn. "ABC News' Brian Ross CHOKES and sends markets in a downward spiral with
Third place on the list went to CNN and reporter Manu Raju, who corrected an error in his reporting regarding Donald Trump Jr. and Wikileaks.
In fourth place was Time magazine. Early on, a reporter for the magazine mistakenly reported that a bust of Martin Luther King Jr. was removed from the Oval Office. In reality, his view of the bust was merely obscured. He apologized and quickly set the record straight.
Fifth place went to The Washington Post and blogger Dave Weigel, who Trump criticized in a tweet in early December. Weigel's offending tweet related to the size of the crowd at one of Trump's rallies.
Source : Billboard