Juniper Ridge raises $10k
on
August 24, 2017
at
11:01 am
Warning
: in_array() expects parameter 2 to be array, boolean given in
/home/content/26/13949026/html/1055ksnx.com/wp-content/plugins/page-links-single-page-option/addons/auto-pagination/auto-pagination-functions.php
on line
185
Warning
: in_array() expects parameter 2 to be array, boolean given in
/home/content/26/13949026/html/1055ksnx.com/wp-content/plugins/page-links-single-page-option/addons/pagination-styles/pagination-styles-functions.php
on line
146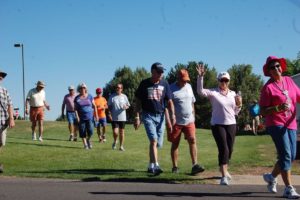 Residents of Juniper Ridge RV Resort in White Mountain Lake raised more than $10,000 for Summit Healthcare's Cancer Center during their annual cancer walk and health fair.
Last year the Juniper Ridge Cancer Walk Committee raised around $9,000.
Cancer Walk committee member Ellen Bromley said around 100 walkers participated in this year's event that started at 8 a.m. Friday. The path for walkers utilized the golf course due to some construction on the road in front of the clubhouse.Walkers had the option of walking once around the course or more if they wanted.
It was all in the name of fun, raising money for the cancer center, and in the interest of good health.
Source : Press Release