Chicago Performs on 'Guitar Center Sessions'
on
January 8, 2016
at
2:43 pm
Warning
: in_array() expects parameter 2 to be array, boolean given in
/home/content/26/13949026/html/1055ksnx.com/wp-content/plugins/page-links-single-page-option/addons/auto-pagination/auto-pagination-functions.php
on line
185
Warning
: in_array() expects parameter 2 to be array, boolean given in
/home/content/26/13949026/html/1055ksnx.com/wp-content/plugins/page-links-single-page-option/addons/pagination-styles/pagination-styles-functions.php
on line
146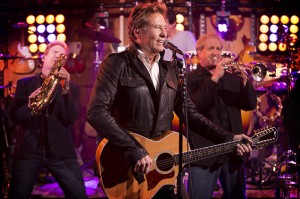 Since 1967, Chicago has been acclaimed for their signature rock sound paired with a boisterous soul supercharge. This April, the band will be inducted into the Rock and Roll Hall of Fame.
Tonight on Guitar Center Sessions (fun fact: it's the show's 99th episode!), Chicago comes together to make some horn-backed magic.  "Every episode is different and brings its own challenges and rewards. This was one of those where you just sit back and watch masters at work."
In this case, the music masters performed their hit "Does Anybody Really Know What Time It Is?," which hit No. 7 on the Hot 100 in 1971.