by Tommy
on
May 19, 2017
at
12:47 pm
Irish rockers U2 seemed to have fixed the ticketing issues that caused confusion and long lines at the first two shows on their Joshua Tree Tour — problems that stemmed from the band's efforts to thwart ticket scalpers.
In what is one of the biggest tests of "paperless tickets" to date, U2's current Joshua Tree Tour requires fans to present their credit card and ID to gain access to highly coveted floor seats. The anti-resale technology is designed to make it difficult for scalpers to flip their tickets on sites like StubHub.
The test got off to a rocky start, with thousands of fans stuck outside of BC Place stadium in Vancouver Friday (May 12) trying to access the show with many confused about where to queue up for access. Fans were unclear which lines to stand in, particularly for general-admission entry to the stadium floor, and many were stuck outside the stadium when opening act Mumford and Sons took to the stage.
Source : Billboard
by Tommy
on
May 18, 2017
at
3:07 pm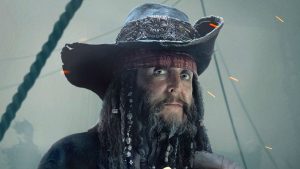 Last year we learned that Paul McCartney would have a role in the fifth installment of the Pirates of the Caribbean franchise. Today, we've gotten out first look at how he looks in full costume for the film, whose subtitle is Dead Men Tell No Tales.
The revelation comes from McCartney himself, who tweeted out a picture of the poster for the Disney movie, which is coming out on May 26.
Read More: See How Paul McCartney Looks in His 'Pirates of the Caribbean' Costume | http://ultimateclassicrock.com/paul-mccartney-pirates-of-the-caribbean-costume/?trackback=tsmclip
by Tommy
on
May 17, 2017
at
12:26 pm
"There's going to be an official announcement in a few days…Glenn's son Deacon is a very talented young man, and he seems to be up for the task. He's enthusiastic about it and he's been working real hard on it, and he's gonna do it with us. And I think that's appropriate." And so ..Deacon will play with the legendary band on their Classic East and Classic West festival dates in July.
Source : Billboard