by Tommy
on
November 23, 2015
at
3:54 pm
by Tommy
on
November 20, 2015
at
1:42 pm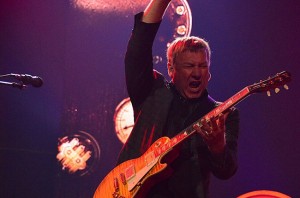 The Canadian trio's R40 tour earlier this year — documented on the new R40 Live CD and home video set due Friday — was accompanied by reports that it would mark the end of Rush, mostly owing to physical ailments suffered by Lifeson and drummer Neil Peart. It may well prove to be the last tour of its kind for Rush, but the band is still very much alive and ongoing, as far as Lifeson is concerned.
"I don't think it is the end, and we never really said this is definitively our last tour. I think it's likely to be our last major tour, but we're still in contact, very close contact with each other, all three of us, and I don't think it's certainly the end of the band. There are still lots of things we want to do. It's not to say that we wouldn't do something in the future on a smaller scale, and there's always the fun project of making a record, which we've all loved forever. Right now I think we're just kind of relaxing and taking it in and getting reconnected with our families and friends and more of a domestic life, and then we'll kinda sort of review it, I think, in the new year and see what we want to do."
by Tommy
on
November 19, 2015
at
10:02 am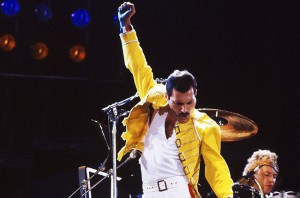 The long-delayed Freddie Mercury biopic is scheduled to start shooting in the summer of 2016 pending a full rewrite from Oscar-nominated screenwriter Anthony McCarten (Theory of Everything), according to a report from The Tracking Board.
The news comes two years after Sacha Baron-Cohen, who had been on board to play the legendary Queen frontman, left the project citing "creative differences." Since then, the project had been assumed by many to be shelved (including Brian May, who joked about the movie not happening earlier this year).
by Tommy
on
November 18, 2015
at
12:21 pm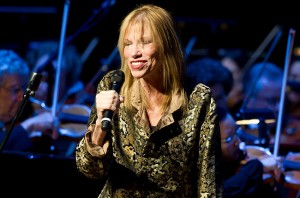 Warren Beatty is no longer just a cloud in her coffee – he is also a confirmed subject of Carly Simon's 1972 hit single "You're So Vain."
Ever since the song's release fans have speculated over which of her notoriously self-involved paramours Simon was lampooning,
and the singer has just revealed to People Magazine that at least one of the verses is about Beatty, whom Simon dated in the early '70s.
Proving her point, Beatty has long maintained that the song is definitely about him. Simon tells People, "I have confirmed that the second verse is Warren," adding,
"Warren thinks the whole thing is about him!" The verse she's referring to goes as follows:
You had me several years ago when I was still quite naive
Well you said that we made such a pretty pair
And that you would never leave
But you gave away the things you loved and one of them was me
I had some dreams, they were clouds in my coffee
Clouds in my coffee, and…